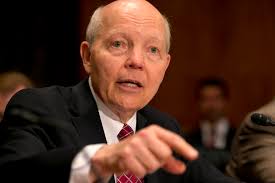 Nearly two months into the Trump administration, the IRS commissioner remains on the job. IRS Director, John Koskinen, has harassed Tea Party members and audited the political enemies of former President Obama. He doesn't need to just be fired, he needs to be prosecuted for abuse of power.
Here is the complete story.
PLEASE SUBSCRIBE TO OUR YOUTUBE CHANNEL ANDDON'T FORGET TO "LIKE" US
---
GREAT OPPORTUNITY
Not only can you get healthy, you can create a second income opportunity. Click here to find out more
---
 For more information and to place your order, please click here
---
Super Tea
This special formula helps support people with problems such as digestion, ry brown, a, nausea and constipation. Helps support healthy cholesterol levels as well as normal blood pressure. Helps clean out nicotine and second hand smoke and keeps the liver, lungs and colon healthy. This tea helps detoxify chemicals caused by parasites, bacteria, and toxins from the entire digestive system. Weight loss CAN be a side effect. This is a LIFE-CHANGING product. People have been feeling poorly for too long. It's time to feel better. With continued use of the tea you can experience clearer, healthier, younger-looking skin, increased energy, and a happier outlook on life.