In yesterday's article, I referenced Pastor Abri Brancken.  He saw the early warning signs of the coming white genocide in South Africa and left for a safe haven in New Zealand. Pastor Brancken contacted me two days ago with news releases that declared that the Chinese are in South Africa and have placed surface to air missiles in a neighboring country. This represents the undeniable fact that the Chinese are in Africa, all of Africa, and are seeking natural resources from this continent and they are using their military to procure these resources. This is exactly what Japan did prior to WW II as they swept through Asia acquiring needed resources required for industrialization. The Chinese are an example of history repeating itself.  These events were being reported in the South African media. It would be a gross understatement to say that we are a on path to World War III.
At first glance, the gun confiscation, the farm land confiscation of land owned by whites and the coming white genocide appeared to be simple revenge in response to the long-time policies of Apartheid. However, and as we know, the root of all evil is the love of money. And money is what is driving these events in South Africa. Pastor Brancken contacted me again, last night, and had more details about the Chinese incursion into South Africa.
Hello Dave.

…I was right. There is much more behind the white farm confiscations than what meets the eye. China is behind it! An article just broke in a credible SA news agency (Maroela Media –www.maroelamedia.co.za) that the reason why the ANC government is "stealing" the first two farms is not for agricultural reasons. It is for the minerals, coal to be specific. It will go to the Chinese. The farms are game farms, you cannot do agricultural farming there, meaning that the confiscation of the first farm is not to produce food or to enable new black farmers to learn about agricultural farming. It is used for high end game hunting. China is moving into Southern Africa for the fertile quality of agricultural land in order to produce food for China and for the natural resources, gold, diamonds and coal. That is why they are placing surface to air missiles in Zimbabwe. What do they fear? Southern Africa is not exactly the best and most advanced when it comes to air forces. No Southern Africa country will strike them. Are they expecting a greater power to counter their moves? USA? The Communist ANC is fulfilling the wishes of the communist Chinese. 

Blessings,

Abri Brancken
______________________________________________________________
More Than Just Africa
This is not just a Chinese phenomenon in Africa. Please consider, as examples, the many examples of Chinese incursions into the United States.
At this point, it is important to connect some dots. Reflecting back on a phrase in Pastor Brancken's email, he stated: "China is moving into Southern Africa for the fertile quality of agricultural land in order to produce food for China".  This is the same CALEXIT strategy being employed by the Chinese in California, and yes, people like Paul Preston have identified an active Chinese presence in the CALEXIT movement.
In great numbers, California farmers have been forced off of their land by a combination of EPA and California state regulations (eg San Joaquin Valley denial of irrigation water to ostensibly done to protect a 2 inch smelt fish.). Now that the damage has been done, water is being returned to many of the impacted areas. And guess who facilitated the buy-up of these distressed farms and ranches? It was none other than Richard Blum! Who is Richard Blum? He is the husband of Senator Dianne Feinstein. Blum has been busy moving Chinese nationals into these distressed properties all over California. Senator Feinstein recently had a Chinese spy outed that had been "unknowingly" embedded on her staff for two decades. Again, are you connecting the dots yet?
These repossessed California farmlands are resold to Chinese interests and the food is being sent to China. This is precisely what we are seeing unfold in South Africa. Same Chinese strategy, different country.
This is abject treason! However, on a larger scale, this is more detail and more proof which represents the embedding of Chinese nationals on American soil, presumably for some future call-to-arms-action. Please allow me to remind our audience that Paul Preston identified on The Common Sense Show that several California and Oregon radio stations broadcast Chinese code late at night and the owners of these stations are Bay Area high tech moguls. Again, connect the dots. I repeat for the purpose of emphasis, this strategy being revealed here represents a global Chinese strategy. We are merely seeing it first in South Africa and California.
Wait a minute, we are seeing this in many more places than California and South Africa. Since I have started covering this topic, in earnest, in the past two weeks, I have received numerous emails from people who are witnessing the same all over the country. In some cases, the Chinese are bringing in personnel to work in a Chinese restaurant, then the entire staff is changed out overnight. Where did the former Chinese go? This is happening in Florida.
From Edmonton, Alberta:
Dave, 
I just watched a Lisa Haven YouTube video where you were speaking about China.  I am a Canadian living in Edmonton, Alberta.  I have recently noticed a serious uptick of Chinese people living in Edmonton and as for the ones moving into my neighbourhood, they are not warm at all.  A Chinese couple bought the house next door and being a Christian I chose to love my neighbour.  A long story short, I had suspicions about the husband being involved in corporate espionage and when I voiced that to my wife, they announce they are moving.  Now there are other Chinese people next door.  My gut says all of these people are Chinese Nationals and not aspiring to be future Canadian Patriots. I know comments like this can raise suspicion and I assure you I am in no way a racist. I loved these people, taught them how to shovel their sidewalks, cut their lawn's, and unclog their drains. It doesn't change the fact that my gut was still sensing something is amiss.
This is the video that referenced Lisa Haven's recent interview with me.
From Littleton, Colorado:
Just listened to Lisa Haven's YouTube where you were discussing the potential for a "Red Dawn" style attack in the US with Chinese troops.

I live in 

Littleton

, Colorado; where our only notoriety was the shooting at Columbine High School.  Otherwise we are just an average suburban community.  A bit of the front story.  The house next door is a rental and I was speaking with the owner about her plans for the house.  She had spoken with a realtor who advised her to hold on to it for another year as property values in the area were still rising.  The realtor also mentioned that the Chinese had been buying property in the southern part of Denver.

Did not think anything of the comment as that has been made in cities along the west coast and the Chinese want safe investments. Fast forward to this evening after listening your YouTube podcast I am being to rethink these going 

on's

.  Just something to add to you files.
From Stockton, California:
Dear Dave,

Thanks for all you do. In reference to your many articles on the so-called Chinese invasion, I have something to add. I have personally seen Chinese coming in buses into my neighborhood. They offload 20-30 and they are going into homes that are for sale. When I was driving a few miles from my house, I saw the same exact thing going on. A couple of my neighbors have commented to me on the same thing. I mean how common is it to have a busload of Chinese touring a house that is for sale and they are traveling together by bus?  There is something seriously wrong. Because I live in the are where this is happening, I am afraid and would ask that you not mention my name. I am 77  and have no way to protect myself. 
Conclusion
This Chinese inspired threat is global. The Red Dawn invasion potential is only a small part of the Chinese global plot to greatly expand their influence.
I grow weary of the cognitive dissonance crowd and the deniers of these facts. Every time, I write an article regarding this threat, literally dozen or more people come out of the woodwork and present more details which help up us to connect the dots. If I can connect these dots and provide witnesses to the Chinese threat, then surely our present administration and their bureaucracies know about this threat as well. We understand that Governor Jerry Brown and Dianne Feinstein and her husband are complicit, but it strongly appears that many in our government are working to take down this country, either by complicit silence, or active involvement.
The Best Food Deal in America is here! Are you prepared? Isn't it time?

 

Click here

 to begin your path that will allow you to survive what is coming. 

 PLEASE SUBSCRIBE TO OUR YOUTUBE CHANNEL AND DON'T FORGET TO "LIKE" US
***Major Announcement***
Stay Tuned, Dave Has Accepted An Offer From a Major Podcast Company to Broadcast His Daily Interviews and Commentary. CONTRACTS ARE SIGNED AND COMMENCEMENT IS ONLY DAYS AWAY- A Public Announcement Will Be Made In the Near Future.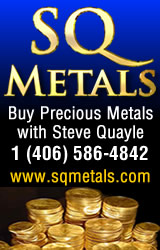 SOLD OUT! LIVE STREAM AVAILABLE!