Steve Quayle's Conclusion
Presumably, Steve Quayle and Dave Hodges have different sources. However, both of us have reached the same exact conclusion. The conclusion states that the Russians and the Chinese will simultaneously attack the United States. However, this will not be a first strike on America, so to speak. The Russian-Chinese invasion will come in the midst of a terrible upheaval in this country which will most likely occur in the midst of a civil war. Hence, this is the reason that we are seeing a major up-tick in the embedding of drug cartel personnel and guerrilla forces entering our country from south of our border.
Phase one consists of the completion of embedded, hostile forces within the United States. They most likely have weapons of mass destruction. Before the combined forces of the Chinese and the Russians strike, we will already be engaged in a massive struggle for both personal and national survival. If you doubt the veracity of these predictions, please consider that even the information coming from the massive liar we call Comey as he stated on July 4, 2016, that American had active Isis cells in all 50 states.
Paul Martin
Last night, Paul Martin contacted me and said he was in the midst of a breaking story. He has sources connected to federal oversight in Arizona which are telling him that armed and well-trained cartel members are entering the country in force, not by the dozens, but by the thousands. In his discussions, Paul Martin stated that the term "Red Dawn" was used. Here is the interview I conducted with Paul, late last night.
Kathy Rubio
Kathy Rubio may be the most unassuming expert that I have ever met. She comes across as everyone's favorite grandmother, but she has excellent sources and the conviction to go out on a limb when necessary.
In the past 4 months, I have interviewed Kathy four times about the Red Dawn paramilitary training camps in El Salvador, Honduras and Nicaragua. She has relatives working both in an around some of the camps. She has first hand information about what is coming. If you would like to hear Kathy's account about the Chinese influence in Nicaragua's communist invasion force being prepared, or you would like to hear more about the training going on at these camps, may I suggest that you use the search engine on this site and search Kathy Rubio?
Texas Ranger Source
I published an entire communication between myself and an unidentified Texas Ranger who was highly concerned about a paramilitary invasion of Texas towns. He also expressed concern for neighboring states as well.Keep in mind that some of the reference material was about Jade Helm 15 events and this email was received in the summer of 2015.  Here are some excerpts from this previous communication that have a very timely relationship to what is transpiring today in America.
Hello Mr. Hodges,

I have been a Texas Ranger for quite some time, and as such, I am privy to much of what is going on with regard to the Midland Walmart store closing, the presence of ISIS on Texas soil and our preparations to combat an insurgent threat….

…The main reason that I am writing to you is to encourage you to keep writing on the growing threat of infiltration in Texas and I suspect other states as well. The infiltration I am writing about is not just Special Forces that are going to conducting covert drills in our state. that is concerning and I agree with you this involves martial law.  For now I am talking about ISIS and the danger that they pose to all of us. Our intelligence indicates that they have enough manpower & firepower to subdue a small town…

…We expecting an attack on more than one Texas city or town by ISIS and/or any of their partners. I believe the information to be accurate… 

…I wanted to tell also you that we believe that Pantex is a high value target for ISIS and much or our preparation is to thwart any action by terrorists against the facility.  I am wondering how in the hell you figured that out. Someone on the deep inside must be talking with you…   

(EDITOR'S NOTE: PANTEX IS A NUCLEAR STORAGE FACILITY)

…I will support the Feds in their preparation against ISIS. But the moment that this action turns against our locals is the moment I will perform my oath of office. I am not alone in this feeling. None of my brothers trust Homeland. We will have to see where this is going but I have a bad feeling…
I have often said that the trouble with deciphering intelligence information that I receive is understanding the chronology of events to follow as well as the timing of something like an impending event. It is difficult to put into its proper perspective. I knew this Texas Ranger communication was important, but I did not fully appreciate the context, until now.
Alex Jones and Heavily Armed Border Crossers
Alex Jones has produced some ground-breaking revelations with hard core proof that the paramilitary types that I have identified as training to be the vanguard of a Red Dawn invasion force are taking up positions as Phase I of this invasion nears completion.
From Infowars:
Footage shows heavily armed men pouring into Arizona from Mexico in what looks like a scene out of Red Dawn.
Below is the footage of the camouflaged men invading America:
Alex Jones is to be commended on bringing forth this clear and imminent danger in such a verifiable manner. What part of irrefutable evidence does the cognitive dissonance crowd not understand? Some people who arrived late to this party may be asking why the President does not know or is not acting. Just because you do not read this in the mainstream media does not mean that it did not happen. The President is responding.
I have reported 4 times on how Trump is sending military personnel to the border in significant numbers since April of 2018.
The Last Ship Has the Last Word
If one appreciates the world of predictive programming, then this revelation will make one sit down and take notice. The Last Ship is in its 6th and final season. Last night, I just fast forwarded through the first two episodes of this season and story line is eerily coincidental.
In summary, the majority of South and Central America have combined military forces and have launched a preemptive Pearl Harbor attack against the United States, thus crippling it military forces. The combined multi-national forces are making their way north in order to invade the United States, RED DAWN STYLE. My of my, don't we live in a world filled with synchronization?
Conclusion
If one wants to understand the absolute inhumanity and brutality of what is coming (ie civil war followed by a Russian-Chinese invasion), please allow me to suggest that the reader review the Rape of Nanking which consisted of the Japanese invasion of the Chinese city of Nanking in which two commanding generals held a beheading contest to see who could kill the most Chinese on the same day. These Chinese and Russian forces will not be in the mood to take prisoners when the carnage begins. Read the Deagel and America2050.org projections. By the year 2025, America will suffer a 90% loss of it existing population.
For you young black males who are lending your efforts to George Soros Black Lives Matter organization, please keep in mind that when the Chinese tanks are rolling down your street, they will not hesitate to blow you and your loved ones away. Moveon.org, ACLU, Antifa and all you millennials who think it is trendy to support socialist regimes, you are signing your own death warrant. All of you misguided youth, regardless of racial background are the modern day Brown Shirts. The historically aware among us should know that the very people who helped Hitler rise to power were cast aside and murdered when Hitler accomplished his objectives. Oh and by the way, when the Russians are going house to house to liberate your personal belongings they are not going to be in the mood, or even give a damn as whether you are really a US citizen. In an invasion scenario, even the MS-13's will not be safe. So you morons who think that liberalism is trendy better wake the hell up immediately, because none of us living here inside the United States are safe and that is even true for the human waste product we call Bill Ayers.
This article is a call to arms for all Americans regardless of race, religion, national origin and previous political ideology. You and your family will soon be in imminent danger and should best act accordingly. Instead of talking about assassinating Trump, perhaps Antifa might want to eradicate and incarcerate the main threat to their lives, namely, George Soros.
To anyone else who thinks that this material is hyperbole and "fear porn", I would like to remind you that Home and Garden TV show is on channel 229 on Direct TV.  You might want to check the listings to see if they have an episode on how to construct a safe room. Oh, that's right, you probably don't have time. Consequently, you might want to take up reading as a hobby. May I suggest the Bible? And why you are praising Jesus, you might want to start passing the ammunition and storing food, water, natural health care remedies, etc.
America, hear me clearly, I have no patience for those that do not have eyes to see and ears to hear. No amount of calling the members of the Independent Media "fear mongers, fear porn etc"., will mitigate what is already underway. You traitors who will not stand for the anthem, might want to reconsider. You should stand for the anthem and kneel before God. The only thing that can save individual Americans now is the redeeming power and protection of Jesus Christ.
The Best Food Deal in America is here! Are you prepared? Isn't it time? 

Click here

 to begin your path that will allow you to survive what is coming.
LIMITED TIME OFFER!

 PLEASE SUBSCRIBE TO OUR YOUTUBE CHANNEL AND DON'T FORGET TO "LIKE" US
***Major Announcement***
 TEMPORARILY, ALL ARCHIVES FOR OUR RADIO SHOWS WILL BE HOUSED AT GLOBAL STAR!  YOU CAN ACCESS THIS LINK BY CLICKING ON THE "LISTEN TO DAVE LIVE" BUTTON IN THE TOP RIGHT HAND MARGIN TO ACCESS!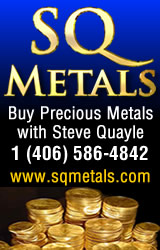 Promo code CSS5 to take 5% off