In the midst of their extreme censorship, the social media demagogues failed to tell the public that they are in the process of determining everything you see, think and hear. The major purpose behind these First Amendment actions is to steal the upcoming midterm elections on behalf of the extremist liberal left. Yes, Virginia, there is election meddling, it is being performed by the social media giant.  Did you know that 15 social media giants are meeting this week in San Francisco in order to steal the election?
The Best Food Deal in America is here! Are you prepared? Isn't it time? Click here to begin your path that will allow you to survive what is coming. 

 PLEASE SUBSCRIBE TO OUR YOUTUBE CHANNEL AND DON'T FORGET TO "LIKE" US
---
***Major Announcement***
Stay Tuned, Dave Has Accepted An Offer From a Major Podcast Company to Broadcast His Daily Interviews and Commentary. CONTRACTS ARE SIGNED AND COMMENCEMENT IS ONLY DAYS AWAY- A Public Announcement Will Be Made In the Near Future.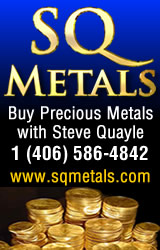 SOLD OUT! LIVE STREAM AVAILABLE!