Yesterday's article which dealt with the increase in Chinese troop presence in this country as well as their infiltration into our internal politics, produced more controversy for an article that I have encountered in quite some time. I was cussed, accused of being mentally ill and I was called a liar. However, the story generated seven more leads on the topic that are credible.
Despite our recent populist revolution that brought Donald Trump to power, I am shocked and dismayed that so many of our people still have their heads buried in the proverbial sand.
Common Research Strategies
A frequent strategy that I employ is exactly what I did when I wrote my dissertation. And when I taught a research class leading to master's level dissertations, I would strongly suggest the same strategy. One simply asks a question, then follow the data which ultimately leads to a conclusion. When I write for the CSS, I often employ one more step which consists of looking for similar patterns in other venues or events and if a relationship exists then one connects the dots. Through the years, I have found that the globalists employ similar strategies on multiple fronts and this is a way I uncover a lot of their bad acts.
This schema of information gathering is simple, but it is amazingly productive in terms of producing results. When I follow this pattern, I find that I abandon about 30% of the articles I begin to investigate, because the data is weak or leads to spurious conclusions which are relevant to the original research question.
I am relating these simple investigative strategies to illustrate why much of my work stands the test of time. Sometimes when investigating a phenomenon, I find something anomalous and disturbing, but the context may not be readily apparent until years later when future events serve to support the original finding. An example would be my discovery, four years ago, that DHS was partnering with the UN to facilitate MS-13 getting into the United States.
There is one additional aspect of research in this field that is important, and this is the information that I receive from the general public. After yesterday's article which described how we have front companies for the Chinese military embedded in our solar industry, the blatant appearance of Chinese soldiers throughout the western United States, the infiltration of the Chinese government into our internal affairs (eg CALEXIT) and the further infiltration of the Communist Chinese into our leaders affairs (eg Dianne Feinstein's Chinese spy who served in her inner circle for 20 years which Feinstein's husband, Richard Blum, sells distressed properties to front groups for the Chinese military and Communist Party. I am certain that this coincidence between the spy and Blum's activities has gone unnoticed. It shouldn't, Feinstein has purposely betrayed her country and her husband is an accomplice.)
Why Is the Chinese Military In the United States?
Despite the overwhelming evidence that the Chinese military is in the Western part of the United States in great numbers (estimated to be between 200,000 and 600,000), there are those who refuse to look at the threat and consider the distinct likelihood that these troops are here to carry out 5th column terrorism and also become part of an embedded force to link up with an invading "Red Dawn"   army when that event occurs.
Seven More Reports of Chinese Military Presence on American Soil
Yesterday, I received 7 more solid confirmations from the general public regarding this Chinese incursion. Two of the reports I received were very concerning because they expanded the influence and presence of this Chinese incursion into Florida. Three of the reports consisted of validating locations and activities of the Chinese that I have already discussed (eg Walmart in Loveland, CO.). Two of the reports discussed the presence of Chinese students at Western Kentucky University, who stay together in large numbers in off campus housing, and who are mentored by Chinese professors who keep to themselves. Actually, I have been told about the Western Kentucky University presence before, but the retired professor of journalism that I interviewed by phone, did not inspire me with confidence that this person was credible. It appears I misjudged the person. In fact, one of yesterday's sources, is a former military noncom and he stated that these Chinese students look and act like military and they keep to themselves. To anyone in this community, please share any details about the Chinese presence in your community that is odd and unusual and related to this story.
Following the report from yesterday, I received hate mail that was volatile and really over the top in terms of the vehemence of the personal attacks. I actually took the time to analyze the negative communications and they fell into 4 categories.
Five times, I was accused in different emails of various levels of mental illness ranging from extreme paranoia to even schizophrenia.
Three people accused me of making money by making up this story.
One person said I was a disinformation agent for the Deep State masquerading as a member of the Independent media.
One person said I should stick to reporting Pizzagate and this information was unimportant.
Six people said this story could not possibly be true. Trump would do something if the Chinese were actually in our country.
My confidence call regarding the validity of the report on the Chinese military presence in this country is nearly 100%. The number of reports is voluminous and have been persistent for years. Then why would so many have trouble believing accounts that are often verified in the MSM?
Cognitive Dissonance Resulting In Learned Helplessness Is the Greatest Enemy for All Americans
The social media and the mainstream media are spending an inordinate amount of money, time and effort in attempting to control the narrative. Yet, nothing that these groups do is as effective good ole fashioned cognitive dissonance resulting in learned helplessness.
Why are so many Americans simply giving in to the suspension of our Constitution and the widespread criminality among our leaders (ie Clinton)?
There is a set of psychological reasons why our people, even those that are seemingly more awake than most, would accept this latest tyranny from their government. We know about cognitive dissonance which prevents people from seeing the totality of a threat and thus inhibiting their personal ability to make the paradigm shift needed to accurately perceive the threat. We also know about bystander apathy which stands as an obstacle to getting involved because in this large country, "someone else will do it". And there is a third psychological reason which prevents us from getting involved because we have been conditioned that our actions cannot make any difference which is reflective of a condition called, learned helplessness.
The Brainwashing of America
Americans have been brainwashed into believing that their government will care for them in their time of need. Has this time in American history been foretold? I believe that it has and that H. G. Wells was the prophetic messenger of the New World Order.
Wells actually understood a concept that modern day psychologists refer to as learned helplessness and he wrote about it in his book, The Time Machine, which was originally published in 1895 and the book was later made into a 1960 hit movie by the same name. The book prophetically told of a time in the distant future where the "normal" inhabitants of the earth would be docile, passive and suffer from the condition that modern day psychologists refer to as "learned helplessness." What is learned helplessness?
Learned Helplessness
Some of us could see Chinese soldiers in uniform right in front of us and we would not see the situation for what it is. Why won't America stand up for herself? Why is the country, once a country which possessed courage and conviction, now sitting idly while allowing itself to be taken to the slaughter without so much as a whimper?
The answer to the above question lies in the psychological concept known as "Learned Helplessness" as discovered by Martin Seligman in the 1960's.
"Learned helplessness" occurs when an animal, or a person, is repeatedly subjected to an aversive stimulus that it cannot escape from. Eventually, the animal will stop trying to avoid the stimulus and behave as if it is utterly helpless to change the situation. Even when opportunities to escape are presented, this learned helplessness will prevent any action".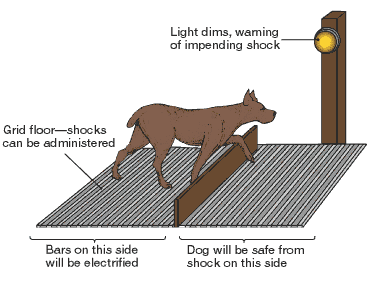 Phase One
In the first phase of the learned helplessness experiment, Seligman placed a dog on an electrical grid, shocked the dog and noted that the dog would demonstrate the ability to escape the aversive stimulus.
Phase Two
In the second phase, the dog was barricaded on the grid and was unable to escape the painful shocks. Eventually the dog laid down and passively accepted the shock.
Phase Three
Seligman then removed the barricades and the dog could have easily escaped the shocks. However, the dog, conditioned by the prior set of events, simply laid down and accepted the shocks, without mounting any resistance whatsoever. This, in large part, is where America is at today.
Conclusion
When it comes to China, we might want to remember, they run slave labor camps and extract organs from fully conscious political prisoners.
Until America discovers that their actions can and do make a difference, the American sheep will continue to accept their enslavement. Is there anything that can turn this around? Yes, the incessant message of freedom and the exposure of the abject criminality of this establishment as well as the sociopathy of a Clinton, Mueller, Rosenstein and wife, Stzok, etc. All of us need to become missionaries of the truth. Until we wake up as a nation, you best learn how to bow deeper than the Chinese man in front of you.