---
Social media censorship threatens the very foundation of this country. Are we going to preserve what is left of our Republic or are we going to capitulate and give into the liberal minority in this country and become another of the planet's dictators?
Conservatives Not Allowed
If one were to post content favoring pro-choice on any or all of the social media platforms (eg YouTube, Twitter, Facebook, and of course, Google), then nothing happens to the individual user's account in terms of social media discipline (eg 30 day ban, shadow banning, account termination). Conversely, if one posts content critical of Planned Parenthood's heinous and inhumane practices such as selling aborted fetal body parts, one risks ending up in social media jail because the entire industry is dominated by a few individuals whose liberal perspective towards life is repugnant by most sane individuals.
Only Extreme Liberal Viewpoints Are Permitted
With what is happening to social media and Hollywood in general, you would think the liberals, if they wanted to make any money, the extreme left would get a clue and change their ways and stop the blatant censorship and extreme propaganda. But no, even the theme of a Justice League movie has gone rogue. That is right, the Justice League used to pledge allegiance to America and now this movie curses America. The "terrorist" in the movie wears a MAGA shirt. I am not joking, the trapppings associated with President Trump are attacked in the Justice League movie. And the trusted authority figures, protrayed in the movie, are all from the United Nations and not the United States.
There is no difference in the extreme propaganda being put forth by the social media and Hollywood. They all serve the same Deep State. Today, the Deep State is in a panic and that panic is reflected in the extreme censorship and and data-selling policies of these globalists.
Sen. Ted Cruz: Leading the Fight Against Liberal Social Media Censorship
Your looking at the face of a frightented man. His GOP colleagues are running for the exits because they are afraid of their own shadow. Over 40 Republican candidates are not running for re-election. George Soros is rumored to be bribing some of these GOP Congressional representatives to not run for re-election for the purpose of supporting the ultra liberal blue wave takeover of Congress this coming November in the upcoming midterm elections.
Ted Cruz has seen the face of the devil and is showing signs of changing. Forget his past, where I too, once detested him. This is a different Ted Cruz. He knows that America's days are almost over. Here is the story of this transformation.
Community Standards
All of social media justifies their blatant and one-sided censorship by hiding behind their very vague and nebulous "community standards" where prohibited "hate speech" consists of telling the documented truth about the criminal behavior of Hillary Clinton. The liberal use the so-called term, "abuse", is exemplified by the banning of accounts of people who dare to attack existence of Hollywood pedophile rings, even when the author documents their content with mainstream media information. Personally, my work has been censored on topics by YouTube even when the same exact content is permitted on YT's Fox and CNN channels. Recently, Youtube delivered a strike against my account for my coverage of the Kilauea event and much of my information came from, and cited, the local Fox TV affiliate. The strike was later rescnded upon appeal, but the action demonstrates the extreme bias and censorship exhibted by the social media against individuals who are labled as "conservative" by these platforms.
In summary all of the social media policies related to their "community standards" are purposely vague so they can pretend to have a basis for blatant censorship of political ideology.
Catch 22 for the Social Media Forums
Recently, Ted Cruz stated that social media, because they are a recognized monopoly and because they censor, are responsible for every post that appears on their platform. This would make all of social media criminally liable as well put them in harms way for civil sanctions for any and all content on their site. Thi shas to do with social media's violation of the Open Forum statutes which will be explained in more detail. Cruz, as well as some lawyers have said the same thing. The legal bite of the concept of "open forum" is captured at the end of this section in a brief exchange between Cruz and social media representatives testifying before Congress.
Watch how the liberal morons can't even keep their stories straight. They are clearly trying to achieve the protected stats of an open forum, but are still trying to censor in violation of the legal concept.  This is the achilles heel of the social media giants.
The Common Sense Show is seeking to partner with abused conservative outlets who have been the victim of illegal censorship in violation of the Open Forums laws. We need an attorney(s) who would be willing to work on a commission basis, or pro-bono to stop the social media outlets from breaking the law. I was told yesterday, that there is an attorney that is offering his services pro bono. However, this intended legal action against the social media giant will need more than one attorney. Join me in continuing to make the appeal to lawyers who will work pro-bono in this endeavor.
A Two-Pronged Approach
In addition to finding a pro-bono set of lawyers who will oppose the violations of the social media monopolies under the Open Forums policies, The Common Sense Show is asking all social media users besiege President Trump with requests for the DOJ to intervene in regard to social media's illegal practices. In short, FB, YT, Twitter and Google are undeniable and unregulated monopolies and subsequently cannot censor without bearing the responsibility for all posts on their site. Ted Cruz is correct on this point.
Before we all sit on our collective thumbs and say they are too big to go after, keep in mind that one of the major reasons that Donald Trump won the 2016 election was because of conservative social media users. President Trump's re-election hopes depend on a free and independent internet. However, the President must be make aware that the majority of the people would support him if he were to take on the cause of blatant internet censorship.
In order to contact the President, you may fill out an online form. Unlike most past Presidents, Trump cares greatly about these kinds of contacts because he feels they reflect a certain percentage of the potential voters. You may link to the form here.
Or you can dial the White House directly:
Pick up your phone and dial the White House. Dial one of the following numbers, depending on who you'd like to reach and what you'd like to say: for Comments, call 202-456-1111 (TTY/TTD 202-456-6213), or to reach the Switchboard, call 202-456-1414 (TTY/TTD
I would urge everyone to not sit this one out, because our entire First Amendment is at stake.
---
HAVE YOU TAKE THE STEPS NEEDED TO BE INDEPENDENT OF THE GOVERNMENT DURING A CRISIS? IS YOUR FAMILY PREPPED? IF NOT, I CAN HELP YOU WITH THE FOOD…THIS IS THE BEST DEAL IN THE USA!
FOR A LIMITED TIME ONLY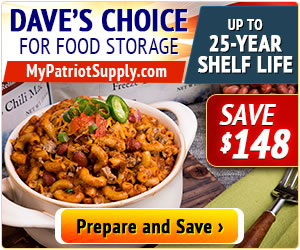 CLICK HERE TO FIND OUT MORE-  USE THE COUPON CODE   "CSS5" TO TAKE 5% OFF