In any repressive regime, before subjugation is complete, the totalitarian government comes for both the guns and the food. Both events are well underway in the present moment inside the United States.
America's Coming Holodomor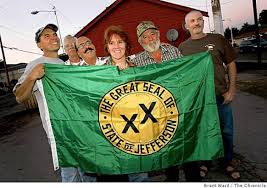 On one hand, we see the forces of the EPA and the BLM are tag teaming ranchers and farmers off of their land.
The goal is the cessation of private food production.
Things are so bad in Northern California and Southern Oregon, that they have tried to form their own state, the State of Jefferson. Unfortunately, without Congressional approval, this idea will never come to fruition. However, it points out the level of subjugation that the American people are feeling and America has about reached her boiling point.
It Has Happened Before
In Ukraine's Holodomor, Stalin thwarted a populist movement for independence in that region. Millions were
starved to death. Hitler, Mao and Stalin, and now the United States used food as means of control.
Going hand in hand with the weaponizing of food, comes gun confiscation. If Ukrainians had guns, they would have a way of fighting back against Stalin.
In the United States, we are presently seeing that UWEX 16 preparing to control the distribution of food on a regional basis. And they are practicing with foreign troops in order that the establishment can completely control food distribution on a regional basis. This is how Stalin pulled off the Holodomor. And this appears that this is how the establishment is going to try and thwart the will of the people that is being expressed in the primary process of the 2016 election cycle. Mix in a little gun control/confiscation and this country has all the trappings of a country that is preparing to commit genocide.
Disarming the Backbone of America's Guerrilla forces, (i.e. veterans) would become the strategy of our occupation forces. 
As Henry Kissinger states, we control the people through controlling the food. The next step is to seize the guns. Why? Because America has 30 million veterans and let's just say we wake up one day and realize that the United Nations has conquered our country, after compromising our government and military. At this point, one would assume that our military is either destroyed and/or compromised to a significant degree.
One would assume at this point that the veterans along with any surviving veterans, would begin to form a Viet Cong kind of organization in which America would settle into a very long and difficult struggle against our occupation forces. And who will be the occupation forces? Foreign troops serving under the UN flag.
Obama is Gutting the Last Line of America's Defense
As of December 2015, the Veterans Administration has reported 260,381 individuals to the FBI, effectively rendering veterans to be in a "special class of people who are arbitrarily prohibited from possessing firearms." The establishment is afraid of the "Viet Cong" potential of this well-trained group.
Under this unconstitutional action, veterans are assigned a fiduciary trustee to act on their behalf is automatically declared "mentally defective" and is reported to NICS, the database Federal Firearms Licensees use to determine whether a prospective buyer is eligible to buy guns.
Senator Chuck Grassley, an Iowa lawmaker who is currently the Senate Judiciary Committee Chairman, finds this unacceptable.
"Our military heroes risked their lives to protect and defend this country and all that we stand for, including our most basic constitutional rights, Now the very agency created to serve them is jeopardizing their Second Amendment rights through an erroneous reading of gun regulations. The VA's careless approach to our veterans' constitutional rights is disgraceful."
Conclusion
The Common Sense Show is calling for veterans to assert the right of civil disobedience in the fact of this unconstitutional action by the Obama administration. For reasons of national security, veterans must arm themselves by any means necessary. They are this country's modern day version of the Minute Men.
To all who are serving in law enforcement as well the American military, let me remind you of the oath to the Constitution that you swore.
Finally, it is clear that this is the end game strategy for criminal elite in response to the spirit of populism awakened by Donald Trump. This would be very good time, just to be safe, to store food, water, gold, guns and Bibles.
Donate to The Common Sense Show
CLICK HERE TO FIND OUT MORE
___________________________________________
The sane alternative to Facebook
Seen.Life-The Facebook alternative- no censorship, no spying–SIGN UP HERE
________________________________