Alex Jones is claiming that he is being investigated for being a Russian spy a couple of days ago. He is not alone and has not been alone for over 18 months. Dating back to mid-November, the Washington Post pubished a list of 200 names of people and/or organizations that were in collusion with the Russians for the express purpose of disrupting the 2016 election.
We wish Alex good luck in dealing with this situation. However, his case is not unique, nor is he alone. This spurious allegationis being used to defame all alt media journalists.
In fact I had discussed suing the Washington Post for their characterization of me as a Russian spy. I published a week after the election of Donald Trump. You can see the Russina-collusion-delusion had its roots in Novemeber of 2016.
On behalf of DH Communications, the parent company of The Common Sense Show, we are releasing the following statement regarding the allegation that The Common Sense Show is playing the role of Russian Collaborator and the staff at The Common Sense Show is serving as Russian agents in an attempt to illegally interfere with America's electoral process.

Be it known, that The Common Sense Show is seeking co-litigants for the purpose of suing the Washington Post for these fabricated allegations mentioned in the previous paragraph.

I see that Mike Adams is moving in the same direction as is The Common Sense Show. At this point, it is pointless to sue the Washington Post as a single entity because when fellow litigants appear, the cases will likely be combined into a class action status.

In an article, dated, November 27, 2016, Mike Adams made the following statement in which The Common Sense Show wholeheartedly agrees with.
"The Washington Post will forfeit any last semblance of credibility if it does not retract this obviously false, baseless and defamatory story".
I confess that I did attempt to influence the election of 2016. I wrote articles which discussed the dangers of a Hillary presidency and the potential virtues of a Trump victory. And I did so to support my candidate of choice, Donald Trump, for the office of President, and I did so an American citizen. We live in a country where normal civic activity is being criminalized by our Deep State controlled government (ie FBI).
And Hillary gets away with selling uranium to the Russians and uses the treason-blood-money in her presidential campaign.
PREPARE WITH DAVE–  4 WEEKS OF $250 STORABLE FOOD ONLY $99
FOR A LIMITED TIME ONLY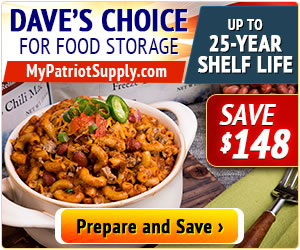 PLEASE SUBSCRIBE TO OUR YOUTUBE CHANNEL AND DON'T FORGET TO "LIKE" US

CLICK HERE TO FIND OUT MORE-  USE THE COUPON CODE   "5COMMON" TO TAKE 5% OFF