With all the turmoil surrounding the summit and with all the controversy generated by certain Democrats (eg Representatives Steve Cohen and Maxine Waters) call for a military coup to remove Trump, we have temporarily lost sight of our economy and there is a lot to be concerned about.
A House of Cards
Only five corporations have fueled the rise of the Stock Market  (eg Google, Apple, Amazon) and only one of them makes anything and that would be Apple. Our economy is built upon a house of cards.
The debt totals are the national debt ($21 trillion), the unfunded, mandated liabilities (eg social security, Medicare, etc) totaling an estimated $240 trillion and finally the credit swap derivatives debt of $1.5 quadrillion. There will be no debt repudiation. Any President that would attempt to repudiate the debt would be dead by sundown.
The housing market crisis is back. The major cause of the economic crash of 2008-09 was the bundling of home mortgages into what has been called the credit swap derivatives. This is was the biggest ponzi scheme in world history and led to the illegal US taxpayer bailout of the perpetrators.
The Trucking Crisis
There is one economic  Trojan horse that very few are discussing and it is bringing the economy down. If the trend continues it will send our economy into a tailspin.
Take a long look at the following chart. What does it tell you?
What this chart tells even the most economically naive of American consumers, is that our economy is deep trouble. Our entire system of food distribution, retail goods and other essentials arrive at our stores through a delivery system that has become known as the "just-in-time-delivery" system.
Ask yourself a question America: In the approach of Hurricane Harvey, which slammed Houston, how long did it take the shelves to empty? Basically, all food and other essential prepping supplies disappeared from store shelves in less than a day. For most, those who were not already prepped were on their own when the storm hit. FEMA was worthless as they have been in every other crisis.
The chart, portrayed above, should gravely concern every American.  The cost of shipping a "dry good"  by truck has risen by almost 80% since 2010 and 40% in the past year alone. At some point in time it will be economically infeasible for the average trucker to continue to drive for less and less money. It is only a matter of time until this increased cost of shipping, will lead to an inflationary spiral because almost all goods are shipped to their final point of distribution.
Geopolitical Implications
Now that I have your attention, it is time to factor in the political and social events into this truck driver shortage.
 The major concern and primary issue connected to this trucking crisis is the massive shortage of truck drivers in the United States. American Trucking Associations estimates that America 50,000 additional truck drivers beyond what we presently have. The shortage impact is real and it is critical. It is just a matter of time until the crisis touches every American in their collective wallets.
The shortage in the trucking market probably won't resolve itself any time soon. Corporations simply cannot find enough drivers. And low unemployment is add to the shortage as well. Further, construction jobs, just as an example, pay better and allow workers to be home more with their families.
Meanwhile, it might be best if this motivated every reader to stock up on supplies because if the driver shortage does not abate, basic supplies (eg food) will not be affordable. And there will come a time when it is no longer profitable to ship and these supplies could be totally unavoidable. Storing basic essentials is no longer an option.

 PLEASE SUBSCRIBE TO OUR YOUTUBE CHANNEL AND DON'T FORGET TO "LIKE" US
---
***Major Announcement***
Stay Tuned, Dave Has Accepted An Offer From a Major Podcast Company to Broadcast His Daily Interviews and Commentary. A Public Announcement Will Be Made In the Near Future!
---
FOR A LIMITED TIME ONLY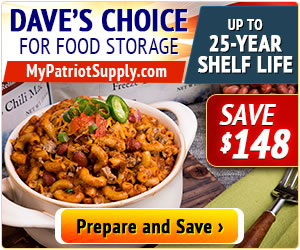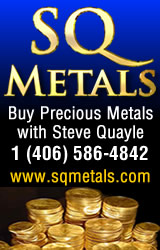 CLICK HERE TO FIND OUT MORE-  USE THE COUPON CODE   "CSS5" TO TAKE 5% OFF